Supply Chain Managers are now Key Influencers
Author

Chris Billinge
Group Business Development Director
7 minute read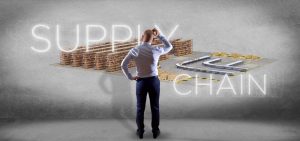 Vendor managed inventory (VMI) systems help businesses overcome supply chain disruptions
Supply chain managers are at the sharp end of manufacturing, as post-pandemic economic effects and the Ukraine conflict have created vulnerabilities in today's global supply chains. These managers heavily influence key business decisions — including grappling with scarcity of raw materials, strained logistics routes, and spiralling costs. Here Chris Billinge, group business development director at member company TFC, an AFC industries company, explains why supply chain managers mustn't do it alone and how vendor-managed inventory (VMI)  partners can offer more value than ever.
Supply chain leaders find themselves at the forefront of influencing business strategies. Gone are the pre-Covid days, where supply chains could be trusted or even taken for granted. Back then, manufacturing was routinely outsourced to Asia and the Far East, especially China, to reduce costs and enhance profits. As Harvard Business Review reports, "managers everywhere should use this crisis to take a fresh look at their supply networks, take steps to understand their vulnerabilities, and then take actions to improve robustness."
The reshoring trend
One response taken by many manufacturers is to quickly reshore manufacturing back to their own countries, under slogans like "buy British". However, before making this leap, manufacturers should ask, 'can our manufacturing be reshored,' or even 'should it'? In other words, companies should think carefully about what's right for them.
According to a survey by Make UK, three-quarters of companies have increased their number of British suppliers in the past two years. Almost half of companies surveyed said they had further plans to boost their UK supply base, and more than ten per cent planned to reduce their reliance on Asian suppliers. Such efforts are an attempt to responsibly side-step supply chain issues while also reining-in costs, reducing lead times and improving quality of service.
But reshoring isn't an option for all manufacturers. Many British companies still rely on imports because domestic industries still cannot produce these products as efficiently or cheaply. Reuters reports that 10 per cent of the European Union (EU)'s $3.63 billion market for fasteners is still served by Chinese imports. In addition, the EU has recently imposed tariffs on the import of steel fasteners from China that covers everything from simple screws to complex high end components.
This change further influences supply chain managers' decisions on where, and how, to source these critical components. Some companies are now searching for alternative supply sources across multiple countries and geographies, which inevitably makes supply chain management more demanding. One the other hand, trading with longstanding partners is no longer a guarantee due to the changing geopolitical landscape.
This raises the question: is British industry trapped by its own past sourcing decisions without enough options to enable an escape? Let's examine some solutions.
Building resilience
McKinsey reports, "For companies in most sectors, a single prolonged shock to production could wipe out 30 to 50 percent of one year's earnings before interest, taxes, and depreciation." This is why disruptions to supply chains should be avoided at all costs. However, in PwC's Digital Trends in Supply Chain Survey 2022, more than half of surveyed companies regarded securing raw materials from suppliers as being either a moderate (37 per cent) or major (27 per cent) risk.
To minimise these risks, existing supply chain models are coming under scrutiny. Companies must therefore overcome any obstacles to sourcing the necessary materials or resources to manufacture their products, while also keeping up with fluctuating post-pandemic demands and the ever-changing geopolitical landscape.
Ad hoc approaches will only go so far — resilience is the solution. According to research by Capgemini Research Institute, supply chain resilience is a key priority for businesses. The study found that 43 per cent of businesses are planning to increase investment in that area, with supply-chain diversification and digitisation being the priorities for the majority of organisations. British manufacturers need to be equipped to deal with change, pivot their strategies as needed and forecast appropriately.
So, how can today's supply chain managers build resilience and flexibility into their supply chains, while managing cost? One of the most tried-and-tested options is collaborating with a third-party vendor managed inventory (VMI) partner, who can shoulder the heavy burden of today's supply chain challenges. In this scenario, the VMI provider takes responsibility for sourcing the components, as well as managing the supply and flow of parts delivered to the customer's factory floor. A manufacturer therefore never has to find itself in a position where production comes to a halt because, for instance, a particular C-Class product is not available.
Value creation
VMI lifts supply chain managers out of the "noise" of their supply chains. There are fewer suppliers to chase and far less administration and paperwork to deal with. Supply chain managers can therefore refocus their efforts on areas that are more effective in delivering for their manufacturing business, rather than the nitty gritty of component sourcing.
For example, VMI enables manufacturers to optimise operational costs, as it ensures the right parts are available when needed. The consolidation of suppliers through a VMI system helps reduce delivery costs, frees up warehouse space and improves internal efficiency. Optimising or even minimising inventory in this way frees up working capital, which can then be redirected into other business areas, like research and development.
With VMI, it becomes possible to ensure product availability in even the most unpredictable manufacturing environments. A good VMI system also provides detailed material handling and usage data. This allows businesses to get ahead of supply chain problems, and decide which actions are needed to mitigate risks in their supply chain.
For businesses that require a high level of traceability, there is also potential to build digital technologies into VMI systems. Take iBinScale , for instance, a smart scale-based system that improves companies' abilities to monitor and control material use. With iBinScale, it's possible to monitor stock levels, around-the-clock in real-time.
While technologies like iBinScale create value, it's important to consider that effective VMI implementation isn't only about new technologies. Instead, a combination of technologies plus people — or trusted partners — is crucial for a successful VMI solution.
The VMI partner must work with the customer with an intense focus on understanding their customer's working environment and requirements. The VMI partner should become a proactive and creative extension of a business, with a daily mantra that is all about creating value. This means taking a never-ending approach to easing the pain of managing a broad, global and complex supply base.
Paying close attention
To explain this better, let's look at the example of one TFC customer, a successful British manufacturer and supplier of power and technology solutions for over 30 years. The customer was experiencing growing logistical problems, and its purchasing and handling of over 400 stock lines of category-C fastener products was becoming more and more challenging. Regular stock shortages were causing on-going problems, leading to production downtime and customer service failures.
To identify the solution, TFC carried out a thorough site survey — observing and listening is a key step in capturing the dynamic of manufacturing operations. TFC found the customer's inventory management processes had developed from a traditional in-store facility, but lacked any routine controls of stock levels or stock rotation. The process was further compounded by the lack of product availability at the point of production.
Based on its survey, TFC recommended a direct point of use VMI system and worked closely with the customer to create a tailored system suited to its needs. TFC proposed relocating stock closer to where it was needed, by incorporating purpose-designed bins and racks. The new process included barcoding, which allowed full and continuous control of stock levels and helped the customer achieve optimal inventory performance.
Following implementation, the agreed solution resulted in a streamlined VMI stock system for standard/regular C-class parts. The new system eliminated costs associated with storing inventory, or replenishing and ordering new parts, and greatly improved the manufacturer's production efficiency. Moving to a tailored system delivered immediate benefits, notably a reduction in total acquisition costs. The net result for the customer was significant bottom-line cost savings and greatly improved working practices.
Moreover, this solution was achieved by listening to, observing and understanding the customer. This approach guided TFC towards designing a system that meets the manufacturing facility's requirements today, while also supporting its future ambitions. But it doesn't stop there. The VMI partner must also 'live and breathe' its customers everyday challenges, and continuously seek new opportunities to create value.
It is easy to focus on the challenges of today's supply chain network, but opportunities to create value are still out there. With VMI, supply chain leaders can stay a step ahead and, to quote Harvard Business Review, "use this crisis to take a fresh look at their supply networks, take steps to understand their vulnerabilities, and then take actions to improve robustness."
TFC can help to minimise distractions by installing a flexible VMI KanBan system that caters to your unique production requirements. Ensuring your supply chain runs efficiently, maximising productivity, saving money, and reducing stress levels – Learn more at vendor-managed inventory (VMI) or contact George Lawrie, General Manager, TFC Energy on 01236 751 815 or by email GLawrie@tfc.eu.com to discuss how TFC can support your business.