Meet our 2023 Annual Awards Winners
We would like to extend our thanks to everyone who supported our dinner this year and to our guests in attendance last night. If the last few years have taught us anything it's that our industry is truly remarkable, and with another successful awards dinner under our belt, we want to say thank you and express how much we appreciate the effort and support shown for our awards each year.
Massive congratulations to our 2023 Award Winners. The excellence demonstrated by our winning companies and young engineers is truly a testament to the strength of talent within our industry. The energy and enthusiasm displayed by all of our winners never fails to fill us with optimism for the future of engineering in Scotland.
Our 2023 Winners 
The Scottish Engineering Company of the Year Award 2023 was awarded to BAE Systems Naval Ships. Their UK Type 26 Programme will support nearly 9,000 direct and indirect jobs and exports to Australia and Canada will bring £6bn to the UK economy. Paul Feely, Academy & Engineering Director, said "We are very proud to receive this award on behalf of our dedicated employees, partners and suppliers. It is an honour to be recognised by Scottish Engineering.  The delivery of our Global Combat Ship in Canada and Australia and our Type 26 Programme in the UK are great endeavours only achieved by the collaboration of our employees, partners and customers, this award is for the whole team. People and the development of skills and technology are the foundation what we do at BAE Systems. This is why we are so pleased to be recognised for our achievements." 
Scottish Engineering's Chief Executive Paul Sheerin added: "BAE Systems have excelled in their delivery of the Type 26 Global Combat Ship programme, despite the massive global economic challenges of the last three years.  Alongside successfully launching HMS Glasgow, they continue to invest in the skills and infrastructure which enables excellence in naval shipbuilding for Scotland and the UK. Their apprentice programme is one of the largest in Scotland, and their commitment to the highest quality training is amongst the very best of the best. It cannot be understated just how crucial the success of their operation is to wider industry in Scotland, with significant supply chain opportunity flowing down to engineering companies of all sizes. My sincere congratulations to BAE Systems, and all our award winners on their much-deserved success this evening."
The 2023 President's Award was presented to Emtelle and collected by their Chief Operating Officer, Paul MacLaurin. Tony Rodgers, CEO of Emtelle Group, said: "We are honoured to have received Scottish Engineering President's Award. My thanks goes to Paul Sheerin and his team for organising this excellent evening, as well as the judges, for voting for us. This past year has seen Emtelle grow as a global force in manufacturing pre-connectorised, blown fibre cable and ducted network solutions. We have expanded to the US, while work has also started on our new facility in Abu Dhabi, one of the world's largest. We are especially proud of the recognition of our continued link with the Scottish Borders. Our Hawick headquarters and centre of excellence in Jedburgh employ hundreds of people, and are home to our R&D facilities where we make our world-leading products. As we look to the future, we will continue to invest further in local talent, and develop more bespoke solutions to meet the huge demand for fibre globally."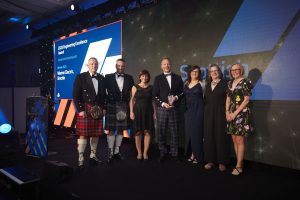 2023 Engineering Excellence Award –

Warner Electric, Brechin
The 2023 Engineering Excellence Award was awarded to Warner Electric, Brechin. Hamish Oag, Operations Director said "On behalf of the team at Warner Electric, Brechin, we are extremely proud to receive such an award. It is indeed testament to the hard work and perseverance demonstrated by the team throughout our Continuous Improvement journey. We now look forward to the next chapter; building upon our progress to date, operating from within new facilities, in collaboration with our new owners."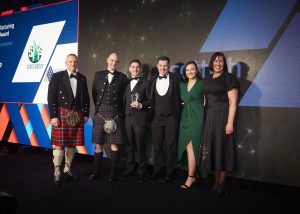 2023 Manufacturing Excellence Award –

STATS Group
The 2023 Manufacturing Excellence Award was awarded to STATS Group. Gary McDowall, Director of Operations, said: "STATS Group is proud to be recognised by Scottish Engineering for our commitment to manufacturing excellence in the energy industry. As a Scottish based SME, we're very proud of our export achievements and our commitment in people development and the continuous investment we have made to establish a robust in-country infrastructure. This award is a testament to our team's hard work and dedication in bringing safer technology to the energy industry and supporting the transition to a low-carbon future."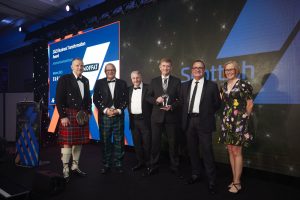 2023 Business Transformation Award – E & R Moffat
The 2023 Business Transformation Award was presented to E & R Moffat. William Moffat, Managing Director stated, "We are very honoured and proud to receive this year's Business Transformation Award. Scotland has a strong heritage of successful manufacturing and engineering businesses and for Moffat to receive this accolade from Scottish Engineering, and from our peers, is a very proud moment indeed. This award is a testament to each and every one of our employees, whose dedication, commitment and endeavour has seen our company achieve great things since the global pandemic in 2020. Their willingness to adapt to new working methods and embrace our culture of continuous improvement has helped provide a strong foundation for our current and future business objectives.  As a wee Bonnybridge based family business about to celebrate their 60th year, we're delighted to accept this distinguished award."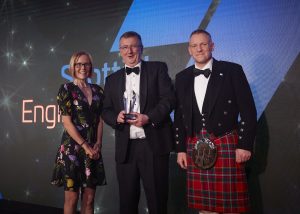 2023 Sustainable Development Award – Turnbull & Scott (Engineering) Ltd​
The 2023 Sustainable Development Award​ was awarded to Turnbull & Scott (Engineering) Ltd​. Peter Murphy, Director said "We are delighted to be receiving this award in 2023, the year we celebrate our 90th birthday. We have been quietly helping our customers to reduce their heat energy consumption for much of that time and to receive the Sustainable Development award is a huge honour, particularly in 2023 with so many companies doing so much wonderfully innovative engineering to solve the climate change challenge. There will be a big celebration in Hawick when we bring this award back to the factory." 

2

023 Innovation Excellence

Award –

Oil State Industries
The 2023 Innovation Excellence Award was awarded to Oil States Industries and collected by Projects Department Manager, Kirsten McNeil. Garry Stephen, Divisional Vice President said "We're honoured to receive this esteemed recognition for our global teams' tireless dedication to connecting the energy future. We're leveraging our rich, 40-year energy heritage in Scotland to accomplish our overarching aim to reduce industrial carbon intensity through increased efficiencies and engineering optimisation by pushing the boundaries of what is possible in renewables, minerals, and oil and gas. Our FTLP offshore wind foundation, which aims to maximise local content for ScotWind and beyond, has the potential to deliver £B's into the Scottish economy while avoiding the offshoring challenges of the fixed wind industry. Our Merlin™ Deepsea Mineral Riser is helping cultivate a reliable supply of the minerals required for electric vehicles, energy storage, smartphones and more. Additionally, we continue to reduce emissions in traditional oil and gas, minimising drilling safety hazards and non-productive time with our MPD systems and other innovations. The support of Scottish Engineering, and the recognition this award provides, helps in our mission to bring our recent innovations to market."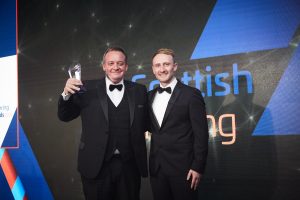 2

023

Skills Excellence Award –

WB Alloy Welding Products Ltd 
The 2023 Skills Excellence Award was presented to WB Alloy Welding Products Ltd. Paul Houston, Managing Director said "We are delighted on behalf of the whole group to be picking up this prestigious award. The business has worked hard and invested heavily to ensure we have a facility that can deliver cutting edge welding training from augmented reality, laser systems, arc processes to the latest artificial intelligent robotic systems. We have and will continue to deliver this type of training from school leavers to upskilling the new workforce needed for the energy transition programmes."
---
   
Our 2023 Young Engineer of the Year Award (YEYA23) in partnership with The Incorporation of Hammermen of Glasgow was presented to Natasha Pell of Wallace McDowall for her role in implementing automation technology to the shop floor through the introduction of a collaborative robot to the factory.  
2

023 Runner Up for Young Engineer of the Year Award (YEYA23) in partnership with The Incorporation of Hammermen of Glasgow

–

Natasha Dell of Thales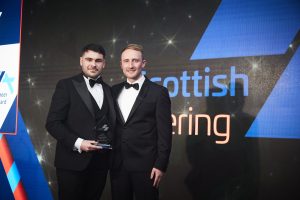 2

023 Runner Up for Young Engineer of the Year Award (YEYA23) in partnership with The Incorporation of Hammermen of Glasgow

–

Mark Leckenby of Mersen
Nina Baker, Deacon of The Incorporation of Hammermen of Glasgow quoted, "Once again the standard of young engineers entering the competition has been inspiring, with outstanding presentations revealing the depth of engineering talent that Scotland can be proud of.  Choosing a winner amongst such high standards is always difficult, but in Natasha Pell of Wallace MacDowall Ltd, we have a worthy winner. Natasha managed to juggle a full time honours degree course with her part time trainee process improvement role, and has been key to researching, testing and gaining board approval that will bring the business benefits of cobotic technology to her company, boosting their capacity and efficiency to unlock future growth.   Alongside Natasha, all our finalists, should be proud of their outstanding achievements and they are a true inspiration to Scottish engineers, young and not so young." 
---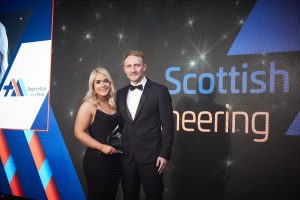 2

023 Engineering Apprentice of the Year Award

 –

Ellis

Dunnachie

of Spirit AeroSystems
Our new award for 2023, Engineering Apprentice of the Year was presented to Ellis Dunnachie of Spirit AeroSystems for being an inspirational role model, exceeding academically and gaining meta-skills which in turn have made her stand out from her peers.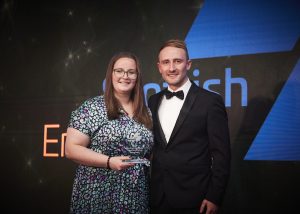 2

023 Runner Up for

Engineering Apprentice of the Year Award

–

Rachel Kelly of Babcock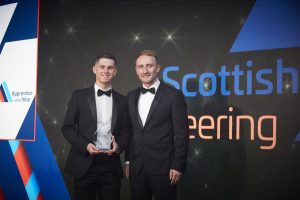 2

023 Runner Up for

Engineering Apprentice of the Year Award

–

Calum

McCrindle

of C

l

ansman Dynamics Ltd
The Engineering Apprentice runner up trophies were awarded to Rachel Kelly of Babcock for her work on developing the Project Control Apprentice programme, and also to Calum McCrindle of Clansman Dynamics Ltd for his project which reduced cost, part count and variation.  
This year's images are available to purchase should you wish through this online gallery. We'd like to extend our thanks to our fantastic photographer Guy Hinks for his work last night. The password to access the online gallery is "hilton". Thank you.
---
A huge thank you to our event sponsors