153 Recovery Company – 102 Battalion REME Celebrates International Woman's Day
The inspirational story of Cfn Kerry McKnight – Recovery Mechanic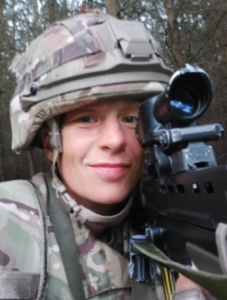 International Woman's Day (IWD) is a global day that celebrates the social, economic, cultural, and political achievements of women. The day also marks a call to action for accelerating womens' equality. Here at 153 Recovery Company, we celebrate International Woman's Day with a short introduction to one of our soldiers, who we feel has achieved many life experiences and has overcome several challenges. 
A Female Role Model within the male-dominated world of our Engineering and STEM sectors. Staying "true to her values and believing in her capabilities". Showing personal dedication and true conviction. "Being brave and always looking to take on new adventures". Kerry is a mother of four children who whilst training to be a nurse, also helps on the family farm. Kerry has always been mentally prepared for various challenges, including joining the REME Reserves in 2021. As predicted, the final phase of recruit training (field exercise) provided many personal tests. However, whilst being nervous, she rose to the occasion and completed the course, gaining many new friends along the way. 
When it comes to the recruitment process, Kerry has been instrumental in positively advising and discussing her experiences with candidates and new recruits. Kerry transferred to the company as a soldier and recently attended the first course of her Phase 2 training at Lyneham as a Recovery Mechanic, demonstrating how conscientious and dedicated she is. This has been a very good year for Kerry, utilising all her time and proving that you don't have to be a superstar to be a genuinely good role model for women.
Being a keen marathon runner, Kerry completed the London Marathon 2021 while representing 102 Bn REME, 153 Recovery Company.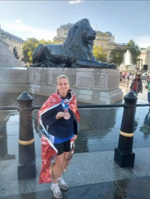 With continued support and guidance to build on top of her natural talent, Kerry will be a great asset to the company with the potential of being an excellent Junior Non-Commissioned Officer soon. Throughout her life, she has endeavoured to continuously show courage, discipline, respect, integrity, loyalty, and selfless commitment.