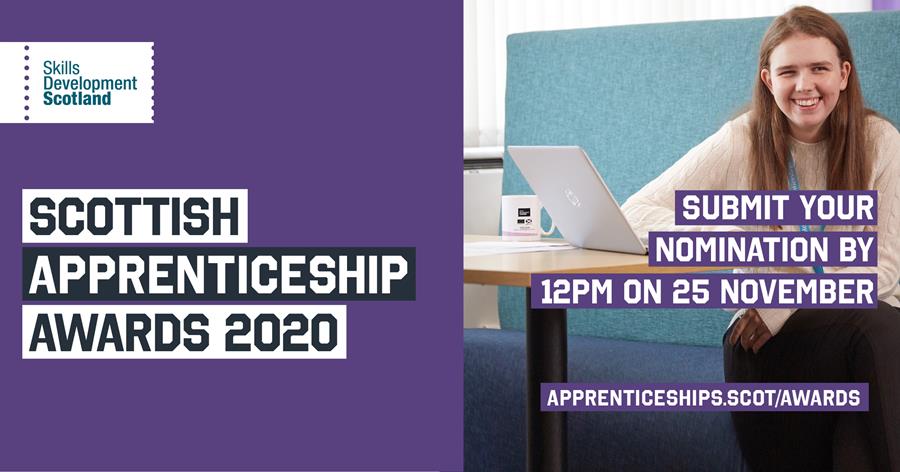 Scottish Apprenticeship Awards 2020 – Nominations Open
Nominations for the Scottish Apprenticeship Awards 2020 are now open ​​​​
Entries are being sought to showcase innovation of the learning providers who have worked with employers and apprentices to support their efforts in exceptional times.
The awards will also highlight the resilience and hard work of Foundation, Modern and Graduate Apprentices during 2020. They will shine a spotlight on individuals and employers across the country who have championed apprenticeships – and recognise businesses' work to support equality and diversity.
It's never been more important to recognise the success of dedicated apprentices, the commitment of their employer and innovations shown by learning providers.
Nominations close at noon on Wednesday, 25 November 2020 and winners will be revealed during Scottish Apprenticeship Week, which takes place from 1-5 March 2021.
For more information on the awards and how to make a nomination, please visit SDS awards webpage on apprenticeships.scot
The team at Skills Development Scotland will be holding a Scottish Apprenticeship Awards Nomination Webinar, on Wednesday 11 November 2020 | 11:30am – 12:30pm
The short webinar session, will provide an overview of:
the streamlined Awards nomination process for 2020
some top tips for submitting your nominations
information on their new award category – Innovation in Learning Provision
an opportunity to ask any questions you have about nominating
To sign up please email marcomms@sds.co.uk