Lowland RFCA Employer Recognition Scheme – Gold Winners 2020
We love to hear positive news stories and particularly enjoy sharing them on a Friday as a nice wee send off into the weekend. This Friday, we have the pleasure of sharing our own good news! Scottish Engineering, alongside member companies Forrest Precision Engineering and Glasgow Caledonian University have been recognised as a Gold Employer Recognition Scheme winner by Lowland RFCA.
As proud supporters of our Armed Forces we are proud to pledge to the Armed Forces Covenant, and feel passionately about acknowledging and understanding that those who serve or who have served in the armed forces, and their families, should be treated with fairness and respect in the communities, economy and society they serve. Congratulations to all the Gold Winners on this fantastic news!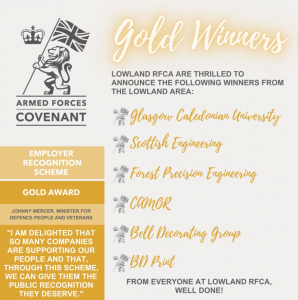 If you'd like to know more about the Armed Forces Covenant click here.