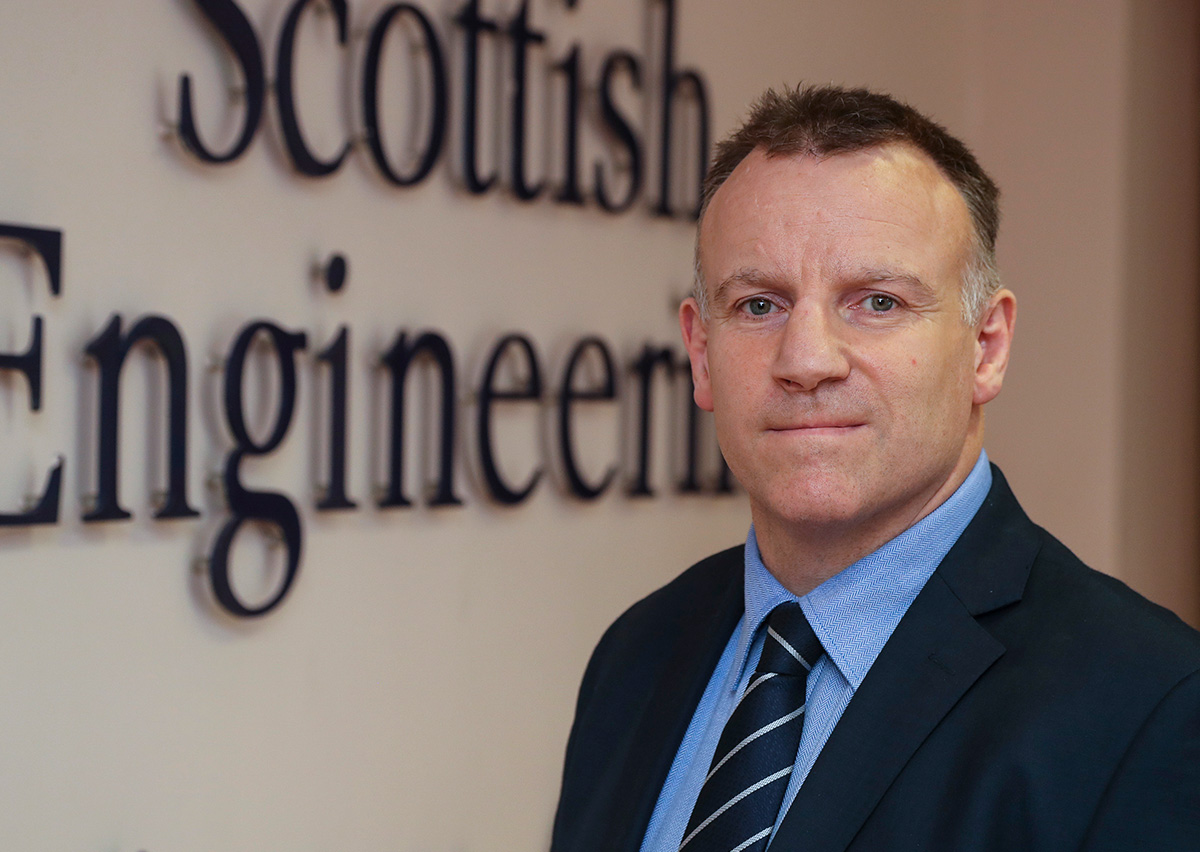 Chief Exec's report Sep 2020
Welcome all to Scottish Engineering's third quarterly review of this year, as we ask ourselves how to process a year like 2020, destined for the history books for all the wrong reasons, with no sector or demographic escaping impact to the way our lives are conducted.  If nothing else, it feels a little clearer now as to how we can expect the path of this pandemic to take, as we can see a pattern of release and control which will likely now be our operating pattern until or if a widespread vaccination programme is in place. How our economy, and for us our manufacturing engineering sector fares as a result is still less clear.
Our opening series of metrics in this report I think sums up best where we are, the measures of order intake, output volume, exports, and staffing. Viewed in context against last quarter's spectacular cliff edge drop, the first three could be cause for mild optimism, perhaps implying that the worst of the bleeding has been stemmed, albeit an average outlook of minus forty-three percentage points will never be a cause for celebration. It is still a step towards neutral by almost one third from last quarter, and as its always good to check if we are looking too hard to find positive paths, a comparison of our forecast metrics shows a similar picture. Our next three month forecast of orders and output volume show approximately minus 10 percentage points, a twenty-five points improvement from June.
In mentioning these opening measures, you may notice that I have averaged only the first three (order intake, output volume and exports) leaving staffing out on its own. Here unfortunately is the benchmark where there is little optimism, and the most human of impacts. Staffing is the only one of these measures to have deteriorated in the last quarter falling by nine points, and this reflects accurately the conversations we have been having with members in these last few months as businesses turn to managing costs to ensure survival.  We should be clear however, that as necessary as these impacts are to ensure sustainable businesses, the numbers involved are a cause to pause and reflect. Over 60 percent of responding companies are currently planning or have begun redundancy programmes, spread in diminishing distribution between less than 10% to over 50% impact. Our survey estimates that overall job losses in our sector could average thirteen percentage points, with a significant proportion expected to enter retirement and unlikely ever to return to working in our sector.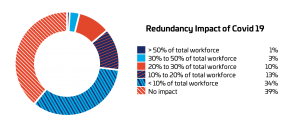 If this is our immediate skills loss rate, we have to return again to a forward view which assumes recovery of demand and asks whether we will have the resource to meet that, and here we have some concerning considerations. Skills Development Scotland last week released their Modern Apprentice Statistics to the end of March 2020, and we should be mindful that at that time most of us were still unsure as to how Covid-19 was going to impact our lives and businesses. Companies registering all sector Modern Apprentices in this quarter clearly had caution however, with an overall greater than 75% drop in registrations compared to the same period in the prior year, and an over 90% fall in Engineering and Energy registrations. Its important to underline that this is a quarter with traditionally low registrations, and this year would have included training groups, colleges and companies planning for temporary shutdown as the likelihood of lockdown approached. But whilst we should not over-react, the concern that we are entering a period of significantly reduced work-based learning apprenticeships cannot be ignored either.
I said earlier that its essential that companies take the actions they must to ensure survival, knowing for many that means tough decisions on training budgets that lead to a Hobson's Choice on whether to start a new intake of apprentices this year.
So, if we are to be ready for a return of demand, we need to decide that this sector is strategically important enough to Scotland's economy to warrant intervention at a Government level to ensure that. The recent announcement of £10m support to apprentice incentives by the Cabinet Secretary for Economy is welcomed, but honestly right now it lacks detail and it is simply not enough. The Department for Education in England announced in July an incentive scheme for new start apprentices, which at a maximum of £2000 I would argue is not enough to genuinely incentivise an employer where finances are the barrier, but it was at least clear and released in time to influence the traditional peak start date for new intakes in September.
For Scotland, as September is upon us, we must genuinely hope that the details of incentives for apprentices will have been worth the wait.
Paul Sheerin
Chief Executive
Scottish Engineering