Additive Manufacturing – Time to Reconsider?
Author
Orthogonal
5 minute read
Additive Manufacturing, also commonly known as 3D printing,  is probably well known to everyone. However, when you think of additive manufacturing (AM) do you envisage, scale models, hobby figurines or prototype only manufacturing machines? Modern industrial Additive Manufacturing machines have advanced and are now able to manufacture more accurately, reliably and with improved high-grade engineering polymers and metals. The process systems in the new industrial machines now provide full traceability with process control and monitoring. With systems able to provide build environment data benchmarked against previous test coupon builds. Additive manufacture also offers the benefit of a lower carbon footprint cost compared to traditional manufacturing methods, with less materials used, less waste produced, and less energy used in the manufacturing process.
AM is now an accepted and approved manufacturing method in leading industries like automotive, aerospace, defence and utilities, you may even have seen the recent news with Relativity Space recently launching a rocket with 85% of the vehicle manufactured using AM. The Oil & Gas Energy sector has also accepted AM as an approved manufacturing process and also approved the use of polymer-based components, with the recent introduction of API Standard 20 T.
Orthogonal specialises in additive manufacture with engineering grade polymers like PEEK, PPS and Carbon Fibre Polymers providing materials that are suitable for end use parts as well as for prototyping. The manufacturing process is still relatively slow when compared to conventional machining methods, however for low volume intricate components, this where AM really excels in both cost and turnaround time. Another area where AM excels is in the manufacture of spare parts for legacy machines, where there is no longer an OEM supplier supporting parts or engineering drawings available. 3D Scanning of legacy parts and reverse engineering followed by AM, can provide low cost, accurate parts in a short lead time compared to trying to find a conventional machine shop willing to handle the manufacture and CAD generation of the legacy parts.
High strength, High temperature polymers like PEEK, PPS and Carbon PA are ideal for the additive manufacture of Tooling, Moulds and Jigs for use in the manufacturing and assembly environment, where these items tend to be low volume and bespoke designs. While these high strength materials also exhibit non marking qualities and are lightweight which is ideal for fixture and fitting jigs.
Additive Manufacture also complements Carbon Fibre Weave layup processes with the manufacture of moulds for resin infusion / pre-preg vacuum moulding as well as additively manufactured dissolvable 3D structures for carbon fibre layup, leaving a carbon fibre, hollow, high strength, very lightweight structures.
If you haven't already looked at additive manufacturing as a source for high quality, low volume, accurate bespoke parts for end use, now is the time to reconsider.
Case History – Legacy Part replacement
A customer contacted us to say they had two old legacy bevel bearings with damaged and missing teeth and was unable to find a machine shop who could perform the machining of new bearings in an acceptable lead time. After discussion with client on his requirements we quoted to additively manufacture two new bevel bearings from Carbon Fibre Nylon. As no engineering drawings were available and we had to work from the damaged part, we scanned the provided damaged bearings and then reverse engineered a new CAD file and checked the new file against the original parts and scan. The new bevel bearings were provided to the client within 5 days of receipt of the order and they confirmed that the parts were a good fit and were working well.
Original Bevel Bearing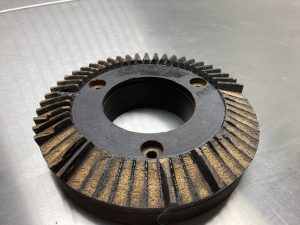 Scanned Image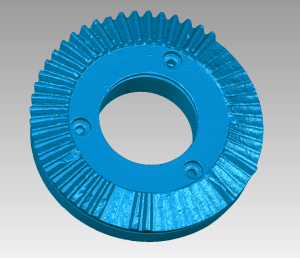 CAD Image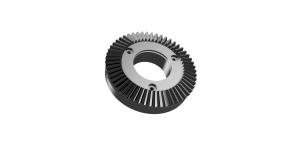 CAD Versus Scan Tolerance Match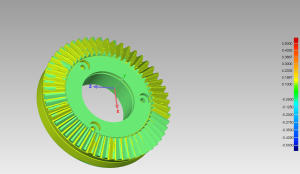 Completed Part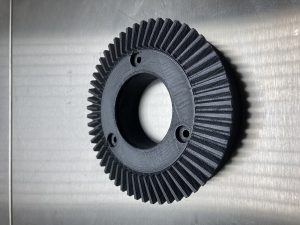 If you do have any queries or are considering utilising AM, we would be happy to talk to you about your needs – please contact
John Niven
john@orthogonalengineering.co.uk
Mob:07548 928990