2022 Annual Awards Winners
We would like to extend our thanks to everyone who supported our dinner this year and to our guests in attendance last night. If the last few years have taught us anything it's that our industry is truly remarkable, and with another successful awards dinner under our belt, we want to say thank you and express how much we appreciate the effort and support shown for our awards each year.
Massive congratulations to our 2022 Award Winners. The excellence demonstrated by our winning companies and young engineers is truly a testament to the strength of talent within our industry. The energy and enthusiasm displayed by all of our winners never fails to fill us with optimism for the future of engineering in Scotland.
Our 2022 Winners 
The Scottish Engineering Company of the Year Award 2022 was awarded to Peak Scientific Instruments Ltd. From its base in Inchinnan, Peak Scientific is a leading innovator in the design, manufacture and support of high-performance gas generators for analytical laboratories, and in the last few years has demonstrated its passion for developing the next generation of engineers. Jonathan Golby chief executive officer stated "For Peak Scientific to be nominated for Scottish Engineering Company of the Year was an honour and discovering that we had won this award is both humbling and validating. It is enormously satisfying to be recognised by our peers and Scottish Engineering, a fitting testament to the culture of home-grown innovation we have fostered here over many years. We believe passionately in the value of nurturing young engineering talent and in cultivating the unique skills and experience that we need within our organisation to allow us to bring best-in-class products to market and to cement our position as a global leader in our market. This is more vital in 2022 than it has ever been, and so we are tremendously proud to receive this award this year, it serves to inspire and spur us on!"
Scottish Engineering's chief executive Paul Sheerin added: "Peak Scientific are an inspiring Scottish success story of stellar growth from export and international focus, achieved through building and supporting a superb team of people to deliver their vision. They continue their investment in research and development, recognising that this has been the engine at the heart of their renowned innovation, and their manufacturing operations are amongst the very best of the best. My sincere congratulations to Peak Scientific, and all our award winners on their much-deserved success this evening."
The 2022 President's Award was presented to John Jenkins & Son (Scotland) Ltd. Jonny Jenkins, managing director said, "We are delighted and honoured to win the President's Award this year. We, like many businesses, have faced unprecedented challenges over the past 24 months but our whole team has performed above expectations to ensure we successfully navigated our way through these challenges. In 2016, we implemented a strategic growth plan which has pushed our business into new sectors with great success. Investment in CNC machinery and ERP software, for example, has not only increased our efficiencies and capacity, but it has also meant investment in the skills and development of our staff who are pivotal in our success. This award recognises the achievements of our entire team, and I would like to thank everyone for their hard work, dedication and loyalty."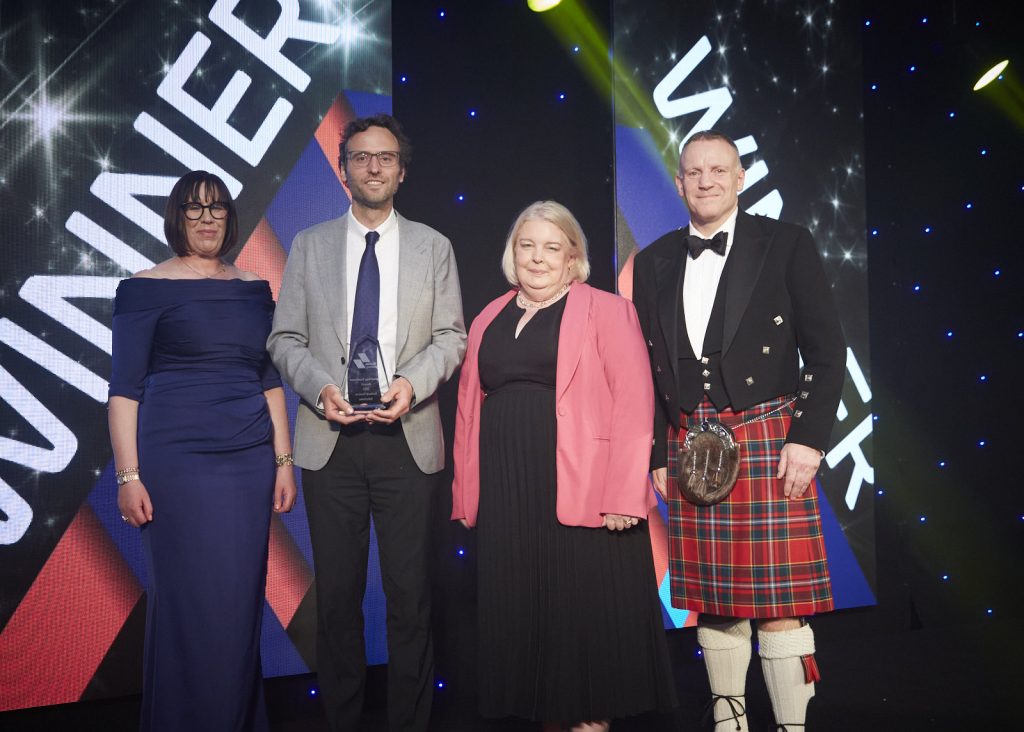 2022 Engineering Excellence Award –

 Ballard Motive Solutions
The 2022 Engineering Excellence Award was awarded to Ballard Motive Solutions. Ben Todd, chief executive officer quoted "I'm delighted that the BMS team has been recognised for their engineering expertise and the innovation they apply across all our fuel cell powertrain integration projects. We're proud to be a part of the Scottish zero-emission transport evolution as we establish and grow our Powertrain Centre of Excellence in Dundee."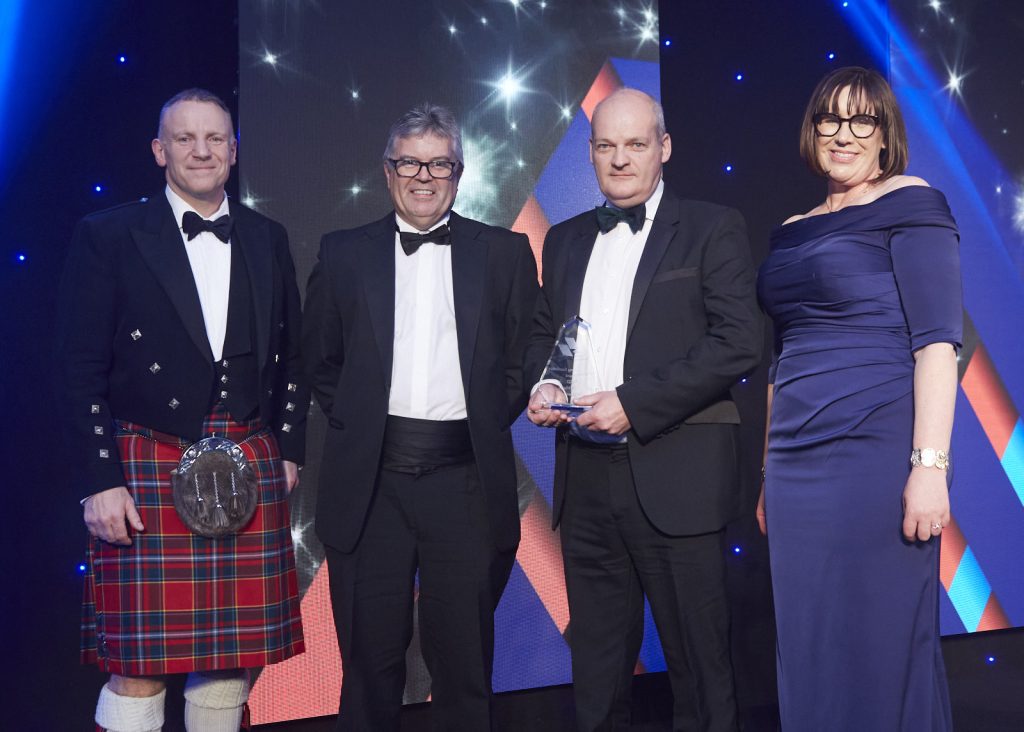 2022 Manufacturing Excellence Award –

 Farid Hillend Engineering
The 2022 Manufacturing Excellence Award was awarded to Farid Hillend Engineering. Bob Barr, chief operating officer said "We've worked extremely hard through a very challenging time to invest in modernising our product range and making it ready for the future. In particular the work we have done with our technology partners on low and zero emission heavy duty vehicles. It's very satisfying to have the work of the Hillend Engineering team recognised in this way."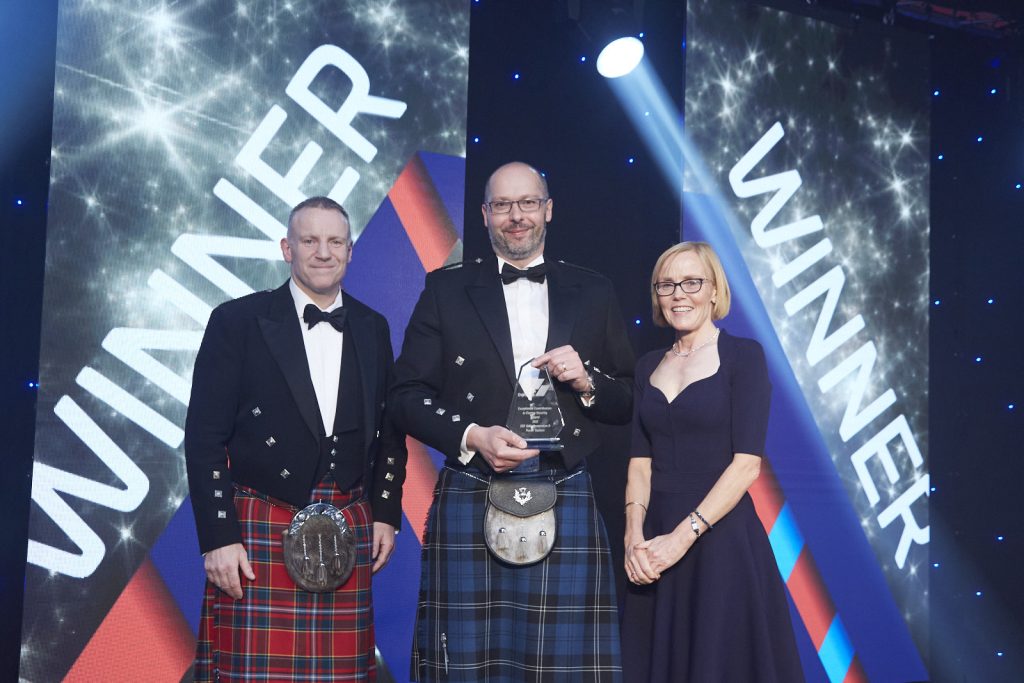 2

022 Exceptional Contribution to Energy Security

 – EDF (UK) Hunterston B Power Station
The 2022 Exceptional Contribution to Energy Security Award was awarded to EDF (UK) Hunterston B Power Station. Joe Struthers, station director said "On behalf of everyone associated with Hunterston B, past and present, I am proud to accept this award. We are honoured to be recognised by Scottish Engineering for our contribution to energy security. The end of generation at Hunterston B was tinged with sadness for many of us, but it also provided a great opportunity for us to respect the past and reflect on our exceptional achievements during 46 years of safe and reliable generation. Looking forward, we are embracing the future, and our fantastic people have already started work on our next mission, safely refuelling the reactors, and dispatching flasks to Sellafield."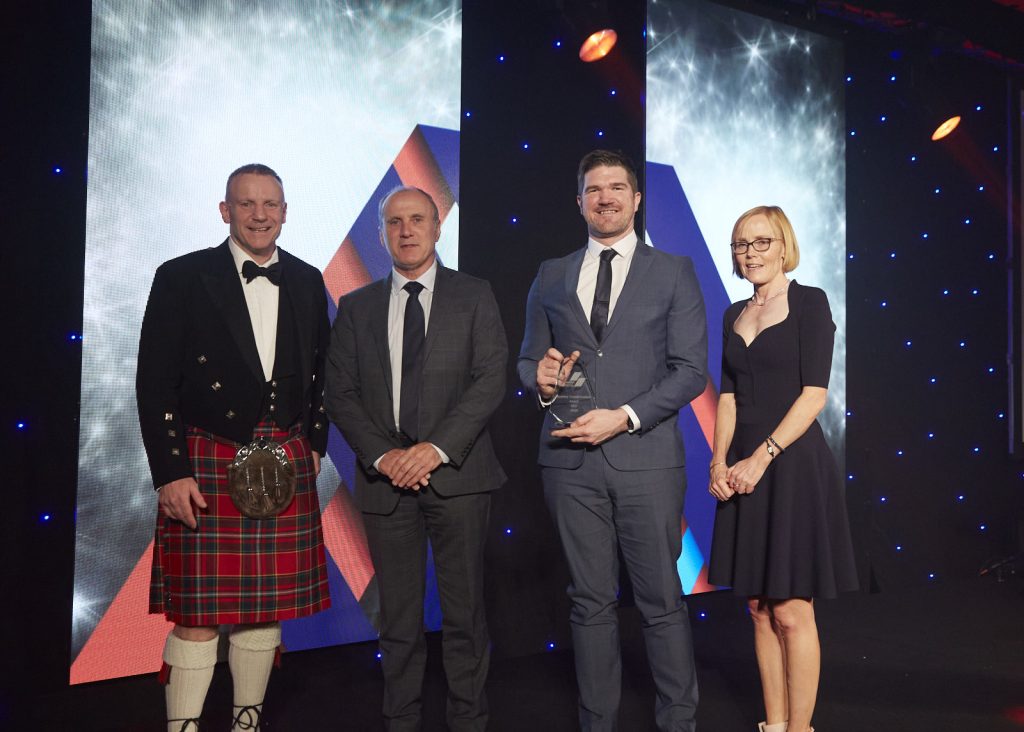 2

022

Business Transformation

Award – 

TEXO
The 2022 Business Transformation Award was presented to TEXO. Chris Smith, Group managing director quoted "We are so delighted to be the recipients of the 2022 Business Transformation Award. It's a fantastic achievement, and one that every single person at TEXO has contributed towards. It's a highly competitive award and Scotland is full of innovative and hard-working engineering firms, so it is a significant accomplishment to have won. Over the past few years – and particularly during the pandemic – we have pulled together as a business to make sure we deliver outstanding work to our clients and that we look after the wellbeing of all our teams. That, alongside our community focus, shows that with a focused approach, the best people and a positive attitude, you can do anything. We're very grateful to the judges and the competition organisers – thank you all so much for your support."
The 2022 Sustainable Development Award was awarded to Alexander Dennis Limited. Paul Davies, ADL president & managing director, said: "I am delighted that we have won the prestigious Sustainable Development Award at the 2022 Scottish Engineering Awards. It underlines the strength, depth and capability of the ADL team members that are responsible for our product development and programme delivery. Our target is to continue to raise the bar as we develop new products that will underpin the decarbonisation ambitions of our industry. While we may be 127 years old, we intend to remain the poster child for British bus design and manufacture, leading the ZEvolution not only here in the UK but across the globe. We are about to launch our Enviro400FCEV double deck here in the UK, but we have also exported our battery electric double deck internationally, from the launch of our North American zero-emission double deck, the Enviro500EV CHARGE, to the recent business we secured in Hong Kong that will provide a strong foundation for us to grow our business in Asia."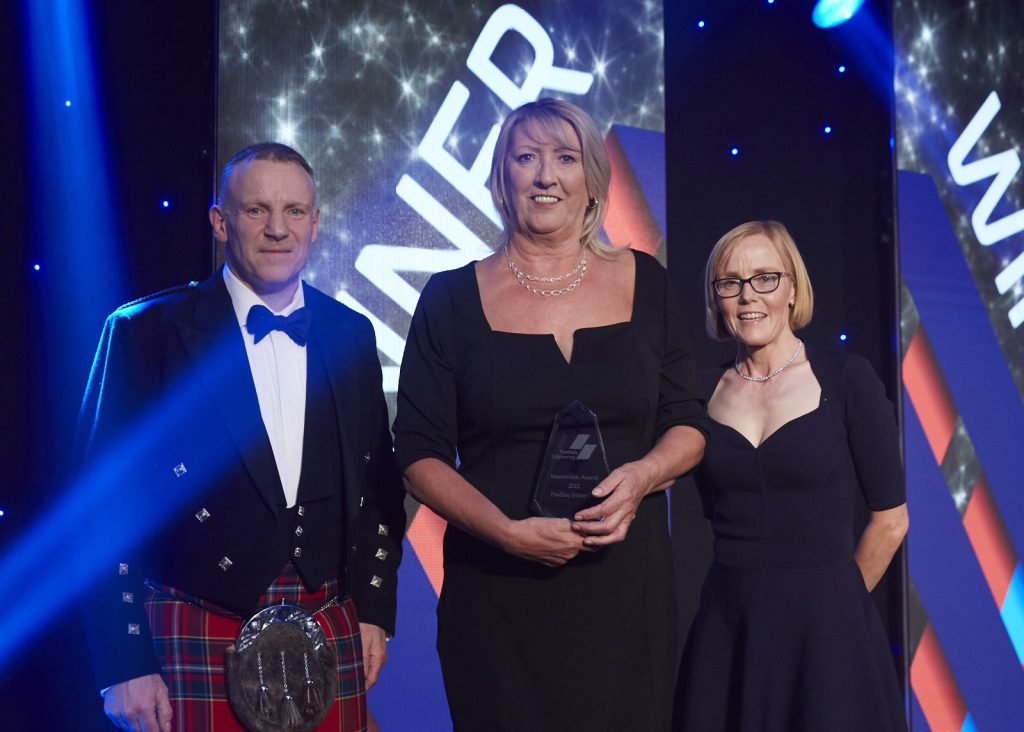 2

022 Innovation

Award – Findlay Irvine Ltd
The 2022 Innovation Award was awarded to Findlay Irvine Ltd. David Leask, Sales & Operations director quoted "Findlay Irvine is delighted to accept this award on behalf of all our staff who constantly strive to keep our customers' needs in focus and deliver the innovation required by them. We fund all our own innovations and to have them recognised by Scottish Engineering's expert panel is truly amazing."
The 2022 Skills, Diversity & Inclusion Award was presented to Xandor Plastics. Jim McNeil managing director said, "I couldn't be more pleased to be recognised in this category – continued development of our entire workforce is key to differentiation in a challenging engineering business environment. At Xandor we take great pride in rearing our own talent through our apprentice scheme, graduate training and operator excellence programs. We are fortunate to have such a diverse, inclusive and highly skilled talent pool here in Scotland to work with."
---
   
2

022 Young Engineer of the Year Award (YEYA22) in partnership with The Incorporation of Hammermen of Glasgow

–

 Greg Barnard of Allied Vehicles 
Our 2022 Young Engineer of the Year Award (YEYA22) in partnership with The Incorporation of Hammermen of Glasgow was presented to Greg Barnard of Allied Vehicles for his leading role in the mechanical design and testing of the Peugeot Rifter Drive-From WAV (Branded: Peugeot Inspire). The YEYA22 runner up trophies were awarded to Juliette Goddard of Intelligent Growth Solutions Ltd for her work as part of the Research and Development team at IGS, working on their Shallow Water Culture project, and also to Euan McLean of Chemring Energetics UK Ltd for his involvement in the design, development, and trial work conducted to produce the C-IED Wire Cutter. David M Westmore, deacon of The Incorporation of Hammermen of Glasgow quoted, "This year we had many young engineers entering the competition with some outstanding presentations revealing the depth of engineering talent within Scotland, and for which Scotland should be proud. Due to the high standard this year, it was a difficult choice of winner amongst the finalists, but in Greg Barnard of Allied Vehicles, we have a worthy winner. Greg developed a drive from wheelchair accessible car, a new product for his company, requiring a range of engineering knowledge across various disciplines, developing expertise, overcoming various issues with innovative ideas and solutions, and, in the process, making his company a leader in the field. Along with Greg, all our finalists should be proud of their outstanding achievements and they are a true inspiration to young engineers."
2

022 Runner Up for Young Engineer of the Year Award (YEYA22) in partnership with The Incorporation of Hammermen of Glasgow

–

Euan McLean of Chemring Energetics UK Ltd
This year's images are available to purchase should you wish through this online gallery. We'd like to extend our thanks to our fantastic photographer Guy Hinks for his work last night. The password to access the online gallery is "hilton". Thank you.
---
A huge thank you to our event sponsors