Women make up around 12% of the engineering sector in the UK, and with a widening skills gap, and the ever-present business benefits of a more diverse workforce, it has never been more important to inspire, encourage and include more people to choose a career in STEM.
The gender gap in the engineering sector has long been a concern and remains a pressing issue, and with new research reporting that the COVID-19 pandemic is deepening gender differences in career aspirations, we collectively need to do more to promote STEM careers. There are countless female role models in the sector, however unless we celebrate them, the engineering industry will struggle to shake off its stereotype as a white male-dominated industry of hard hats and hi-viz, and we will struggle to achieve a better balance.
Gender imbalance is not the only diversity issue facing STEM industries, there needs to be better representation of ethnic diversity, alongside representation from minority and low socio-economic backgrounds. Without seeing yourself represented in the industry, would you really feel driven to pursue a career where you perceive you might not feel welcome? Through our Inclusive Engineering virtual sessions, we aim to shine the spotlight on what a career in engineering looks like for groups in industry where we can achieve a better balance, and illustrate that "if you can see it, you can be it".
Please join us for this fun informal online session on the morning of Wednesday 24th February 2021. Please note that this event is not exclusively for women – we enthusiastically welcome everyone who feels passionately about inclusive engineering to attend.
Click here to register.
Our Speakers –
Nic MacPherson. Nic is currently Head of Operations at Highland Spring (Manufacturing, Engineering & Supply Chain for the Group). A mum, engineer and high-energy ops director, Nic has a proven record of developing, leading & implementing operational excellence. She's also led transformation across sites, regions, countries & cultures. She has solid experience in FMCG, Energy & Aviation, spanning manufacturing, supply chain, customer service, maintenance & services (holding senior roles in British Airways, General Electric Aviation & Energy, Elis & Gategroup). Nic's technical and operational skillset is complimented by her adaptability and exceptionally strong coaching and people skills. Her moto is "every team needs a sense of vulnerability to truly unlock trust and excellence"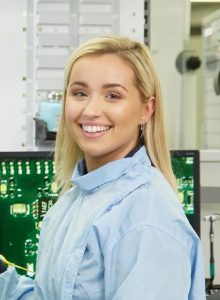 Jordanne Currie. Whilst at school, Jordanne had very little exposure to engineering and everything the field encompassed. Having already applied for uni, which had always been her plan, a serendipitous opportunity presented itself when she heard about a Leonardo apprenticeship. Feeling that an apprenticeship would provide the right mix of hands-on experience and academic learning, she decided to begin her modern apprenticeship with Leonardo. She has proclaimed that her apprenticeship has been an incomparable gateway into the world of work and has given her a balance between learning and holding responsibility that would not have been achievable, had she taken a place at university. In 2019, she was listed as one of Women in Engineering's Top 100 Engineers and selected as a finalist in Skills Development Scotland's SVQ Level 6+ Apprentice of the Year. Now over a year out of her apprenticeship, she is studying a part-time Engineering with Management degree whilst working within the AESA (Active Electronically Scanning Array) Surveillance Radar Roof Lab, developing and testing her company's latest radar products.
Athena Wu. Athena was recently appointed Sustainable Aviation champion to focus on safeguarding jobs and R&D in Scotland as part of the Aerospace Response Group. She made a mid-career change to join the R&D team at Spirit Aerosystems after working mostly with TRL9 technologies in a defence environment for Marshall Aerospace and Defence group. For over 20 years she worked on platforms ranging from rockets to submarines in several technical disciplines. Passionate about the Aerospace industry and effective pushing of frontiers, Athena wants to help promote agile career planning and interconnectivity within the Aerospace community. She actively supports Primary Engineer, the Women in Aviation and Aerospace Charter and is a committee member of the Royal Aeronautical Society (Prestwick.)
________________________________________________________________________________
This event is free to attend. To register, please click here.
Or alternatively, email sarahcarvill@scottishengineering.org.uk, thank you. Please feel free to share this event with any of your contacts who could benefit from attending.