We are delighted to announce that tickets for the Scottish Engineering Awards Dinner 2023, held on the 11th May, are now available to purchase.
Our annual awards aim to recognise both inspiring individuals and exceptional organisations, who are the epitome of Scottish excellence. Contained within this booklet are the organisations and young engineers who truly demonstrate excellence within our industry.
If you wish to purchase a ticket, or sponsor the event, please contact Marie McCormack.
2023 Ticket Prices
Cost: £130 (incl. VAT) per person
(Includes pre-dinner drinks, a 3-course meal, table wine) 
Dress Code: Occasion Wear
Time: 18:30 for 19:15 (until 23:00)
Seating: Tables of 10/12 can be reserved
Smaller numbers are also welcome
Sponsorship Packages 2023 –
Gold – £2250 (includes a table of 10)
Silver – £1150 (includes a table of five)
Bronze – £560 (Includes two tickets)
All prices are inclusive of VAT
Our Guest Speaker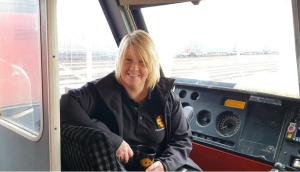 Heather Waugh, Freight Train Driver, Freightliner
Heather Waugh joined the railway as a Train Driver with Scotrail in August 2006, having previously been an Operational Manager with Royal Mail for 10 years.
In January 2019 Heather became Freightliner's first ever female train driver in Scotland and, indeed, the only female freight train driver at all in Scotland.
She is passionate about issues around mental health, equality, diversity and inclusion and believes strongly in breaking down barriers, both mental and physical, which prevent women from excelling in areas that are still heavily male dominated within the rail industry.
She won 'Highly Commended' at the Women in Rail Awards 2020 in the category of 'Inspirational Woman of the Year'.
In 2021 Heather took part in a BBC initiative to raise awareness of mental health, and partners with the Samaritans to highlight and improve support within the industry. She is also part of the DfT steering group to improve mental health support throughout the industry.
She was honoured to win 'Outstanding Individual Contribution' at the 2021 RFG Awards, and has been listed in the UK Women of the Year 2021. She is a popular speaker at events, including COP26 and the European Year of Rail in Austria.
Entertainment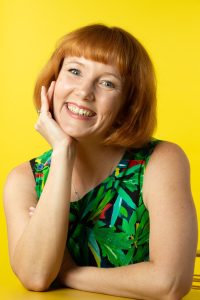 Jay Lafferty
Sought after for her on point satirical views Jay Lafferty has become a regular face on BBC Scotland's television channel. Her Edinburgh Fringe 2019 hit solo show Jay Lafferty: Jammy was made into a BBC Radio Scotland three part series – Jay's Jammy. During the pandemic alongside the rest of the world Jay took her work online performing comedy all over the world from the comfort of her living room while continuing to be a regular voice on BBC Breaking The News. In the new normal she was one of the few comics who performed a full Edinburgh Fringe run in 2021 with Jay Lafferty: Blether.
Jay has been performing comedy since 2005 working all over the UK as well as performing in New York, Los Angeles, Toronto, Reykjavik and Amsterdam. An experienced compere and stand-up Jay has an easy manner on stage, instantly connecting with her audience. Her comedy has been described as chocolate covered hand grenades. Clever material delivered with effortless charm and packing a bite.
Special thanks to our sponsors