Looking for environmentally friendly solutions to support your green journey? 
Tuesday 26 April 2022
Come and visit Autonomous iOt in the rail cluster's upcoming face to face event.
The rail cluster project is delighted to announce a rearranged date for this exciting face-to-face event, featuring rail cluster member and SME, Autonomous iOt. This fantastic Scottish-based business produces innovative, environmentally conscious products powered by the sun and wind.  Reducing its carbon footprint and helping others to address climate change and environmental damage are key drivers in its product development.  This ethos is perfectly aligned with the rail cluster project's aim of supporting Transport Scotland's Rail Decarbonisation Action Plan and finding more environmentally friendly solutions for the Scottish rail sector.
Autonomous iOt has a brand-new customer experience venue at its headquarters in Airdrie and we are very lucky to be one of the first groups to be able to see and hear all about the company's innovative lighting, surveillance, monitoring, and communications solutions.  Come and join us on Tuesday 26 April, 10am-12pm where you will hear from John Irons, Key Account Director at Autonomous iOt who will explain the company's growth and success as well as its aims for the future.  John will then show us the portfolio of products that the business can offer and where they can add value to your own business and help support your journey to net zero. You will also enjoy a visit to the company's bespoke manufacturing facility and meet some of the skilled staff in the Autonomous team.
View Autonomous iOt product information here.
Due to high demand, we have had to close the registration to attend this event, thank you to all the companies that registered and we look forward to meeting you all at Autonomous iOt's first-ever event on Tuesday 26 April.
---
Agenda
1000 – Arrival and teas, coffees and refreshments.
1015 – Welcome from the rail cluster 
1020 – Introduction to Autonomous iOt – John Irons.
1050 – View products 
1150 – Thank you for attending 
1200 – Close 
Session speaker –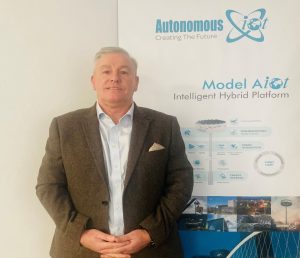 John Irons is the Key Accounts Director at Autonomous iOt. John's background has been in the Solar PV industry since 2012 and he has worked for several blue-chip Solar PV companies until joining Autonomous iOt in June 2021. John has made it his mission to tackle climate change and he would like Autonomous iOt to lead by example to help Scotland reach targets set by the Government to reach carbon net zero, and believes that Autonomous' Intelligent Hybrid Lighting & Communication Platform should assist in helping their clients to achieve this.