Developing Scotland's Leaders Programme
Your leaders can be your companies biggest asset. Invest in them today with this specially designed programme to give them the skills they need to positively impact your business.
We have partnered with The Leadership Factory, one of the leading providers of leadership training in Scotland. They have a proven track record with many of our member companies and we are thrilled to offer all our members this best in class training.

What is the Programme?
Who is it for?
What is the benefit?
Programme structure
Personal development planning
Coaching clinics
Leadership learning portal
Book your places
What is the Programme?
Developing Scotland's Leaders is a programme of workshops, coaching and support designed to improve leadership competence.
Participants will develop skills that will enable them to thrive as leaders in Scottish industry. The programme gives the opportunity to learn from seasoned leaders and experts in their field, as well as network with leaders from across Scotland.
The programme consists of:
Six one-day workshops
Two individual coaching sessions
Personal development planning
Our online support portal
Who is it for?
The programme is for people working in leadership positions who want to continue to develop their own skills and competence.
Chief Executives
Directors
Mid-level Managers
People with immediate leadership potential
What is the benefit?
By the end of the programme leaders will:
Have the confidence and skills to tackle difficult and challenging situations
Understand human behaviour and how to implement their knowledge to inspire enthusiasm within their team
Have developed their own self-coaching ability to continue developing throughout their careers
Developing Scotland's Leaders is a blended, holistic approach to learning that focuses on real-life organisational challenges, to create a true understanding of how learned knowledge can be put into practice in the workplace.
Programme structure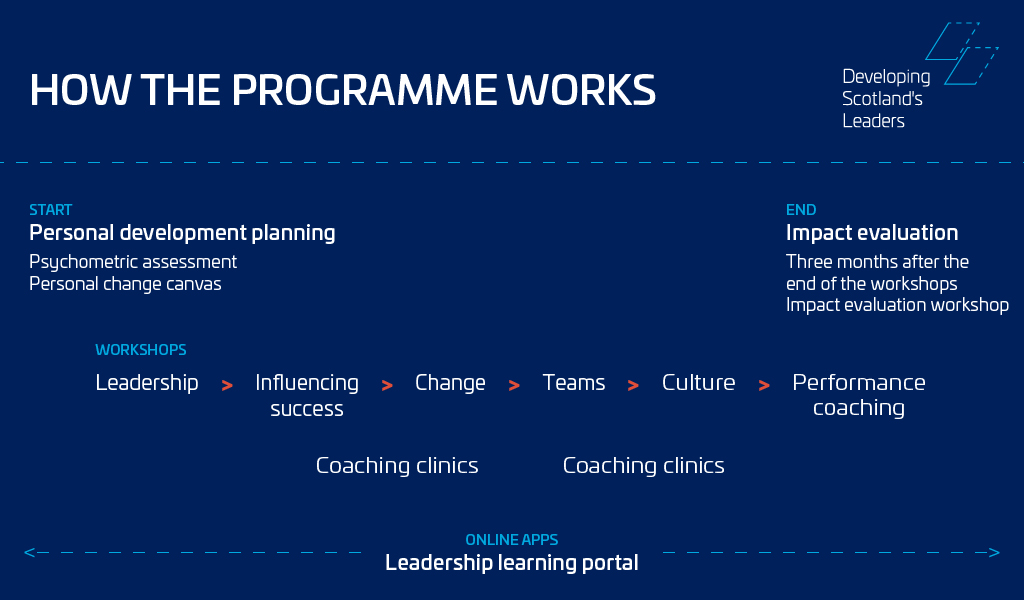 Personal development planning
Each delegate will complete a psychometric assessment and will be provided with individualised feedback.
They will also be issued with their own 'Personal Change Canvas' kit prior to the programme start and asked to think of themselves as a change project.
The programme is structured to help delegates define the change and to achieve it.
After each session, delegates will have completed the latest iteration of their canvas and will take a photograph. Each of the photographs will form a stage in the personal change story which will be use for the final evaluation presentation.
The canvas also provides tangible evidence of progress and a framework for continuing development post programme.
Coaching clinics
Our highly-rated coaching approach has helped people gain personal insight, tackle difficult situations and develop their own self-coaching ability to see them through their careers. Coaching is crucial to help participants embed the learning from the workshops into their day to day behaviours and leadership styles. We help people be at their best!
The coach will be booked at a date and time to suit the delegate, and each session will be based on 1.5 hours of coaching time. Each delegate would access 2 coaching sessions with the option to take more.
Our coaching approach will provide :
Experienced coaching with unique styles and background
Coaching workbook provided to all coachees to focus coaching
Minimum disruption for delegates and their businesses
Enabling for participants to put learning into practice
Leadership learning portal
The Learning Portal is a curated learning point for delegates to reach out to when:
They are ready and in the right frame of mind to learn
They are interested in a specific topic and want to know more
They need specific hints, tips and tricks on how to deal with specific situations or issues
Each area will be filled with materials from the workshops, articles, videos, podcasts and links to relevant information to make learning exciting and give specific guides.
On the go access from phones, tablets and computers
Unlimited access for 12 months from the end of the programme
Regularly updated with relevant, thought-provoking pieces to keep learning interesting