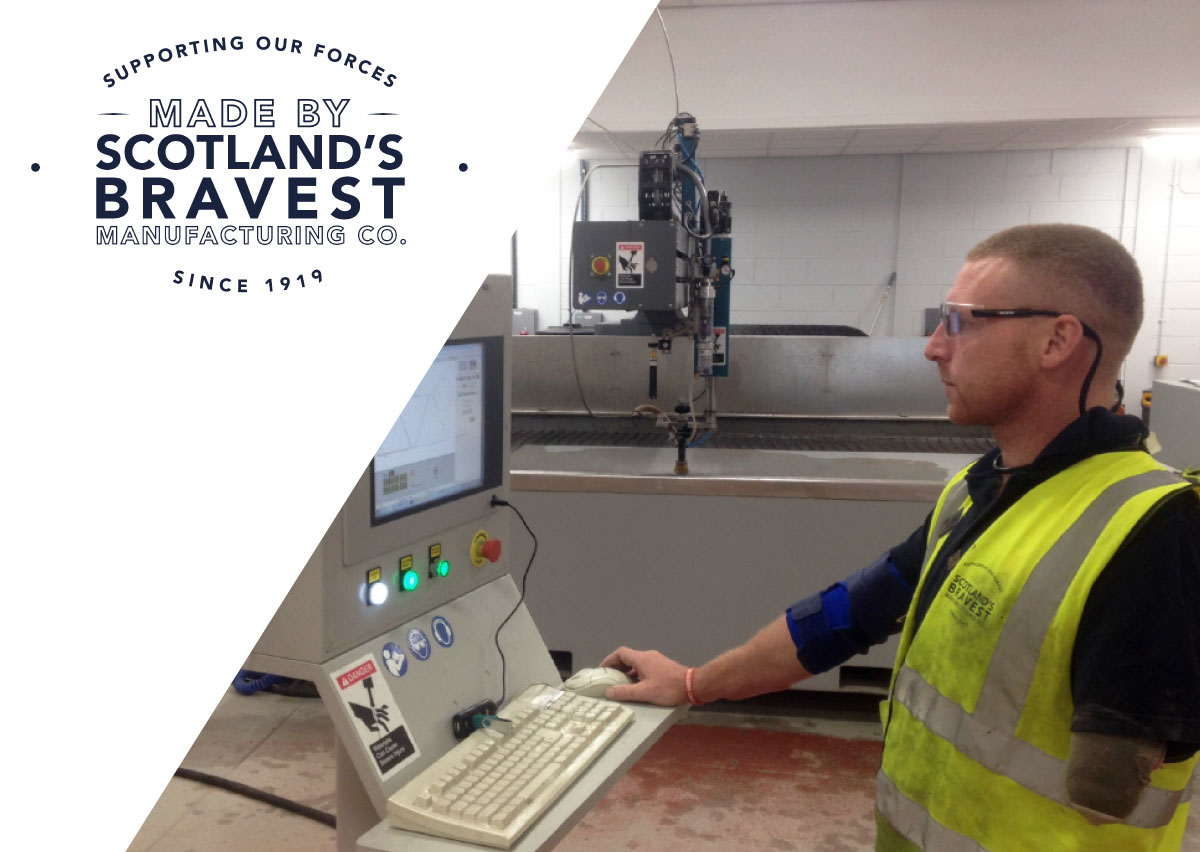 Guest Writer: Scotland's Bravest Manufacturing Company
Andy Russell
Operations Manager,
Scotland's Bravest Manufacturing Company
The idea of creating Scotland's Bravest Manufacturing Company (SBMC) was born after the release of a 2016 report, The Veterans Community Employability, Skills & Learning, by Eric Fraser – the previous Scottish Veterans Commissioner. It outlined the wealth of skills our veterans' community has to offer and how it was a priority for the country to ensure there was specialised services in place that could nurture these skills, and help Armed Forces personnel into civilian workplaces.
Having spent my entire working life in Scottish manufacturing, I understood the values that ex-military personnel can bring to an organisation, the undoubted skills and experiences they own, the outlook they have on life and a work ethic second to none. However, the few % that had mental and physical scars of service, were often overlooked, for a whole number of reasons, or maybe just put in the "too difficult" pile during the normal recruitment processes. To do that though, would be missing out on what is such a valuable resource, when we are struggling to get talented people into the industry.
SBMC, as a social enterprise employs, as well as offers training and volunteering opportunities to, veterans and others, with disabilities, who have found themselves in a period of long-term unemployment. We aim to align ourselves with local companies who potentially can offer sustainable, real, long term employment. To do that we offer skills, over an 18 month period that can prove, not only to the employers, but to the operatives themselves, that they have the skills and aptitude to make it in their next career. We can tailor training ahead of employment, so they are as ready as possible to hit the ground running. My personal goal was to give anyone who comes through our door an appetite for "making things (better)", and a desire to believe engineering can be a career of choice. I was privileged to work for a number of wonderful and thriving Scottish companies, and to see people, who have never even been in a factory before, produce quality product, create excellent print works or sign designs, operate a waterjet, produce cutting programs gives me a real sense of selfish pleasure.
Having recently secured national contracts from bodies including BEAR Scotland and Amey Scotland, as well as a number of local authorities, and with support from organisations such as AFRC, and Hubbell, and of course the huge support and facilities offered from Erskine, SBMC aims to support 150 veterans – including their partners and family – over the next three years. This will allow the factory to expand, and provide more diverse work types, to increase opportunities across the industry.
As part of the Royal British Legion Industries (RBLI), the UK's leading charity helping ex-Armed Forces personnel into employment, we're able to offer employment and volunteering roles, as well as training, in manufacturing, fulfilment and printing disciplines. What's crucial when working with veterans is building a sense of worth and helping the individuals understand that their military skills are transferable – and they are incredibly versatile.
Of-course it's our goal to get these veterans into employment after completing our programme, but we want to ensure that the workplace that they end up in is enjoyable and ultimately a career they can progress in. It's important to remember that as well providing new skills and employment opportunities, SBMC aims to grow the confidence of its service users. We understand that returning to civilian life can be daunting and even taking that one step in trying to find a job is difficult, so we've designed the 18-month employment programme to ensure we're consistently up-skilling the workforce and helping build their confidence.
We have been overwhelmed by the support of the Armed Forces community, charities, and of course manufacturing companies. It's safe to say we are pleased that our social enterprise has been welcomed with open arms, as this has been fundamental to our growth.
If you want to find more about SBMC, and how your company, and the veterans, can benefit from our works, please call 0141 471 0830, email enquiries@scotlandsbravest.org.uk, or find our website at www.scotlandsbravest.org.uk
The views expressed by the guest writer are not necessarily those of Scottish Engineering