Description
A working lunch with Alex Hynes, MD Scotland's Railway
The Rail Cluster Builder welcomes you to join us once again at our upcoming event Work Winning Safety, Competence and Training Session. Scotland's Railway covers a large geographical area, stretching from the Borders to Thurso at the far tip of the North East of Scotland. It provides rapid access along busy commuter routes linking our seven cities, and fulfils a variety of travel needs from business, leisure and daily commuter services.
This event aims to engage and educate SMEs about what is happening across Scotland's Railway and will highlight important projects on the horizon and what Scotland will need from the supply chain. With an emphasis on safe, reliable and quality workmanship delivered by people who are highly trained and competent in their specialist areas, this event is perfect for SMEs who would like to hear more about supply chain opportunities.
_____________________________________________________________________________________________________________
Headline Speaker –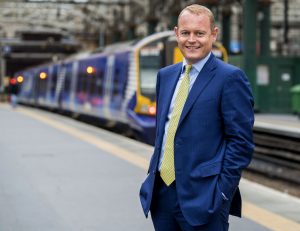 Alex Hynes, Managing Director, Scotland's Railway. Alex Hynes was appointed Managing Director of the ScotRail Alliance in June 2017. Two years later, he was promoted to the broader role of Managing Director, Scotland's Railway, following further operational devolution from Network Rail to Scotland. He currently leads the delivery of Scotland's Railway through the ScotRail Alliance, a unique and industry-leading partnership between Abellio ScotRail and Network Rail Scotland. Before joining Scotland's Railway, Alex was Managing Director of the Northern rail franchise for three and a half years, where he successfully delivered their best-ever customer satisfaction scores as well as record levels of employee engagement. An experienced transport professional, Alex has over 20 years of industry experience and a proven track record of delivering rail improvement and investment programmes. Having spent his early career as a consultant for Halcrow Fox, Alex worked at the Office of Rail Regulation before joining the Go-Ahead Group in 2005 as Strategic Planning Manager and, in 2007, as Commercial Director at London Midland, and finally, as Managing Director – Rail Development.
Alex is a Fellow of the Chartered Institute of Logistics and Transport, a Fellow of the Permanent Way Institution, a member and former Chair of the Institution of Railway Operators, and a member of the Scotland Advisory Board for Business in the Community. He was named Industry Leader of the Year 2018 at the Rail Business Awards. Alex lives in Perthshire and commutes (by train) to Glasgow.
Guest Speaker –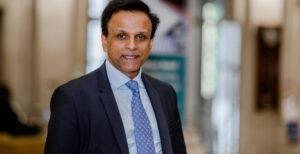 Raj Sinha, Group Managing Director at Glasgow HQ'd SWGR. Raj Sinha is a Chartered Civil Engineer with over 30 years' experience in the rail industry. He is currently the Group Managing Director of SWGR, which provides rail infrastructure support services nationwide. He was also Managing Director of SSE Enterprise Rail, which enjoyed a prolific period of growth during his tenure – he still supports SSE in a Non-exec capacity. He has led some of the largest corporate and private infrastructure companies in the UK rail sector and was the youngest Head of Projects at Network Rail. He graduated from the University of Glasgow with a BSc in Civil and Structural Engineering. Raj has successfully led teams and organisations across Britain's railways for the last 25 years winning and successfully delivering major projects and initiatives valued at more than £2bn. Today, Raj is a shareholding Group Managing Director at Glasgow-based SWGR – a business that has been in existence for more than 30 consecutive years. With impressive contract wins under Raj's leadership in the last six months, and strong opportunities on the horizon, SWGR is certainly looking like it is going to be the place to be over the coming months and years. Raj will talk about his more recent work at SWGR, how competency and training management is helping the company to build on its strong historic performance – keeping its people safe and delivering a good and quality service. He will also discuss how he wants to build collaborative relationships with like-minded businesses across Scotland's Railway.
We hope you can join us for what promises to be an interesting and informative event. Register here.
Event Sponsor: The Competency and Training Marketplace (Powered by Sopra Steria)